In honour of International Women's Day, we want to highlight the incredible female voices on the Eggs Canna team. From our woman founder to our women store managers the diversity is strong.  From "dude culture" to big business other industries can be very patriarchal, and Eggs Canna wants to change this – to make it a safe space not only for women but for everyone. Throughout our community Eggs Canna aims to amplify the power of women and crack down the gender bias. 
Join us leading up to International Women's Day as we shine the light on the incredible Women that are a part of our Eggs Canna team. The fourth person we want to highlight is Angie Macnab, CPA, our CFO at Eggs Canna. Angie's Cannabis journey is featured in this Q+A.
ANGIE MACNAB, CPA, ACCA: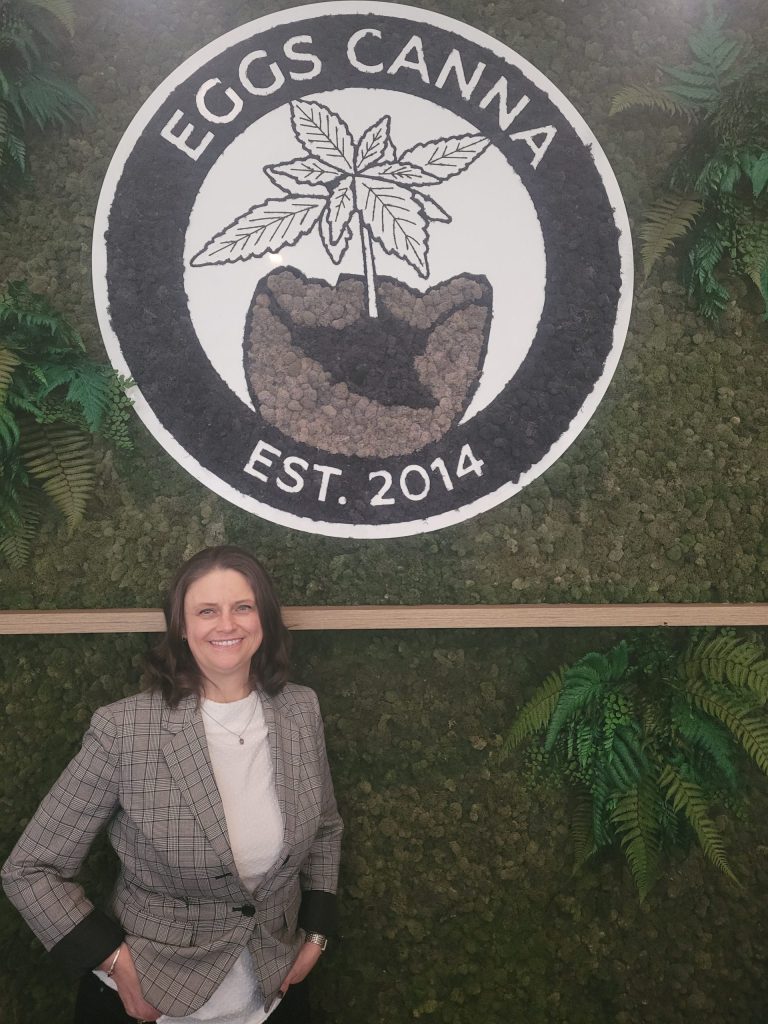 Why/how did you get into the cannabis industry?  
By referral, and right place/time through our retail manager whom I previously worked with for several years. When he heard I was consulting in summer 2018, he reached out to help with card processing RFP, which led to Oana and I hitting it off.  I wanted to join a team where my past experiences could contribute again to a growing business' start-up phase – and it cannot get more startup than a whole new industry. 
What advice do you have for women looking to make an impact in the cannabis space?
Embrace the amazingness of balancing business with caring – this industry is creating jobs and building businesses, through product development and offerings that will be focused on every gender.  Don't be afraid to speak up and share your perspectives. 
Did you ever dream of being in cannabis industry?  
Definitely was not on my radar before summer 2018 – then legalization opened the doors to totally fit my next career chapter. 
What are some of the challenges that still exist that made you WANT to be in this industry?  
One in particular for me: the (still) crazy challenges in banking (thank goodness we got into BMO and G&F Financial Group when we did – FICOM limits cannabis accounts, which is crazy as we go through intense financial & security checks to earn the BC retail & Health Canada cultivation licences, so if Government awards licence, why are we any different than any other heavy regulated industry?!). As a CPA, I feel I can really help make a difference in this component – banking is so fundamental to business, from direct deposit payroll to paying vendors and stakeholders, cannabis is second only to blockchain for this hurdle. Yet, compared to blockchain cannabis retailers and cultivators go through that intense scrutiny just to be allowed to operate. 
OK, second point – ensuring retail is a level playing field for ALL private retailers (which we do see some unfair advantages for Government retail). 
How does a women's presence in cannabis change the way that the industry is viewed and perceived? 
Combination of work ethic and constantly balancing business/professionalism and caring – speaking out when I see any sexist comments or behaviour. 
What do you think helped you the most to make a career as a woman? What's the biggest factor that has helped you be successful? 
Being a go-getter who asks questions to understand every aspect of the business.   
How many people did you have to convince that Cannabis isn't a dangerous substance? 
Oh my, oh so many!!  Especially when sharing what I've learned about CBD – which has been a huge help for me with sleeping (quieting my brain at night has been a challenge for many years), not to mention muscle aches. 
How many times have you been in the only woman in the room, when it comes to cannabis? 
This one is a tough one, we are so rarely in "rooms" together anymore – only a handful of times luckily. 
What was your families reaction to being in the cannabis industry?  
I was a bit nervous but my entire family (including a grandmother who'd been quietly using CBD for sleep & inflammation for a few years) totally embraced cannabis and were excited to share in this amazing new industry development! 
BONUS QUESTIONS: What is your favourite Munchie?  
Twizzlers! 
What is your favourite method of consumption?
Drinks & chocolate! (So long as it's low sugar lol) 
The International Women's Day 2022 Campaign theme is #BreakTheBias, which is why Eggs Canna is #CrackingTheBias:  
Imagine a gender equal world.  
A world free of bias, stereotypes, and discrimination.  
A world that is diverse, equitable, and inclusive.  
A world where difference is valued and celebrated.  
Together we can forge women's equality.  
Collectively we can all #CrackTheBias.  
Individually, we're all responsible for our own thoughts and actions – all day, every day.  
We can crack the bias in our communities.  
We will crack the bias in our workplaces.  
Together, we can all crack and creak the bias - on International Women's Day  and beyond.