In honor of International Women's Day, we want to highlight the incredible female voices on the eggs canna team. From our women founder to our women store managers the diversity is strong.  From dude culture to big business, other industries can be very patriarchal, and Eggs Canna wants to change this. To make it a safe space not only for women, but for everyone. Throughout our community, Eggs Canna aims to amplify the power of women and crack down the gender bias.
Join us leading up to International Women's Day as we shine the light on the incredible Women that are a part of the Eggs Canna team. The third person we want to highlight is Tainara Souza Costa, the Manager of our Eggs Canna Commercial Location. Tai's Cannabis journey is featured in this Q+A.
Tainara Souza Costa: Marketing Of Eggs Canna Commercial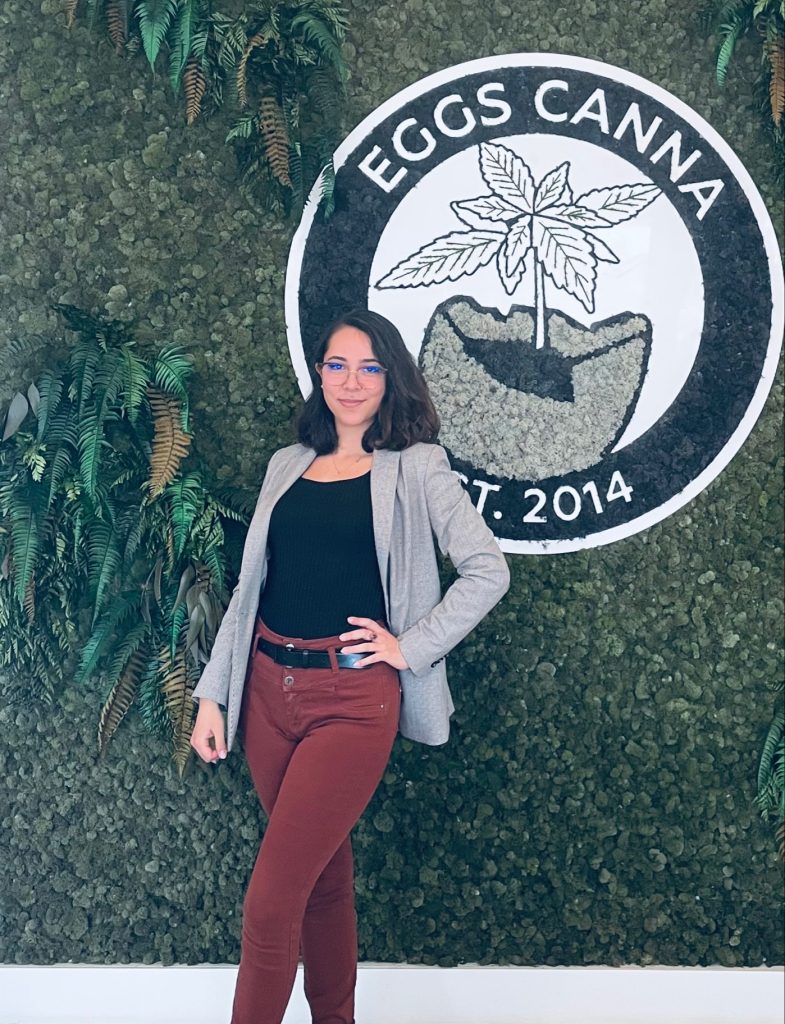 Why/how did you get into the cannabis industry?  
I will be completely BLUNT on this one. When I first moved down the street from our Hastings location, I was looking for work and in fairness, I didn't know what I wanted to do – I only knew what I didn't want to do. It happened that Eggs Canna was hiring, just as I was getting more into cannabis! I remember telling Oana (one of our co-founders) "I live 5 minutes away" when she asked what made me want to work with them. Looking back, I feel so lucky that she hired me. 
What advice do you have for women looking to make an impact in the cannabis space?
Trust and value your abilities, what you know and what you believe in. You should trust yourself but admit when you don't know something. 
Did you ever dream of being in cannabis industry?  
It is safe to say that I never would have expected myself to work in the cannabis industry until I began working with Eggs – especially managing a store! Before coming to Canada, I barely knew anything about cannabis but now that I have explored it, I'm so glad that I did. 
What are some of the challenges that still exist that made you WANT to be in this industry? 
Being from a country where cannabis is illegal, I missed out on many years of cannabis experience, so sometimes I feel like I still have a lot to learn. Although I've worked in this industry for 2 years, I still consider myself a newbie since there's so much to learn! There are always new products coming out on the market which is super exciting. The good news is that since the Canadian legal industry is still relatively new, I feel like I have been growing and learning alongside it. 
How does a women's presence in cannabis change the way that the industry is viewed and perceived? 
Most industries are still dominated by men, and women have just begun making their way into the world seeking equality and respect. This is also true of the legal cannabis industry. In this industry, we are here to advocate for change, both for ourselves as well as for the future of the cannabis world and as a result, I think we both have a lot to learn from each other. As naturally nurturing people, we welcome new consumers and help educate by making them feel comfortable to ask all the questions they want; we are here to end stigmas. 
What do you think helped you the most to make a career as a woman? What's the biggest factor that has helped you be successful? 
I believe my success is due to my kindness and humility. I want to be able to both help my team have fun while selling cannabis products and the customers who are looking for a good experience or want to learn more about the cannabis plant. However, patience is definitely a big factor in my success. 
How many people did you have to convince that Cannabis isn't a dangerous substance? 
Not too many yet, besides some curious customers asking questions about cannabis. I love how the legal industry gives space for new consumers to find a product without the fear of having paranoia after using it. However, I have the feeling that once I visit my family and friends in Brazil, I will have to educate many people about the benefits of cannabis. 
How many times have you been in the only woman in the room, when it comes to cannabis? 
Since I'm the only person who smokes weed among my friends, I'm usually the only one around cannabis. That's been the case for a while now, so frustrating! Nevertheless, I managed to get some of them into CBD products and lower THC beverages. 
What was your families reaction to being in the cannabis industry?  
At first, I was very afraid of their reaction. Thankfully, my mom is an open-minded woman who knows it's legal in this country. She noticed how much cannabis has helped me over the past few years and has always been very supportive of my career choice. The rest of my family members… We're still figuring it out! They won't necessarily discuss what I work on, but I truly believe that if I am happy, they will support me. 
BONUS QUESTIONS: What is your favourite Munchie?  
It's ice cream for sure! Everything with caramel is my favorite. I'm also a big fan of kettle corn chips, I will eat them until they're gone! 
What is your favourite method of consumption?
Joints, joints, joints! Obviously, there is no more fun than rolling your own joints. From the first bag impression to smelling it, grinding it, smoking it, or sipping on a cannabis beverage, the whole process is very therapeutic. It's an art form. 
The International Women's Day 2022 Campaign theme is #BreakTheBias, which is why Eggs Canna is #CrackingTheBias:  
Imagine a gender equal world.  
A world free of bias, stereotypes, and discrimination.  
A world that is diverse, equitable, and inclusive.  
A world where difference is valued and celebrated.  
Together we can forge women's equality.  
Collectively we can all #CrackTheBias.  
Individually, we're all responsible for our own thoughts and actions – all day, every day.  
We can crack the bias in our communities.  
We will crack the bias in our workplaces.  
Together, we can all crack and creak the bias - on International Women's Day  and beyond.