In honor of International Women's Day, we want to highlight the incredible female voices on the eggs canna team. From our women founder to our women store managers the diversity is strong.  From dude culture to big business, other industries can be very patriarchal, and Eggs Canna wants to change this. To make it a safe space not only for women, but for everyone. Throughout our community, Eggs Canna aims to amplify the power of women and crack down the gender bias.
Join us leading up to International Women's Day as we shine the light on the incredible Women that are a part of the Eggs Canna team. The first person we want to highlight is Demara Bradford, the Manager of our Hollywood Boutique in Kelowna. Demara's Cannabis journey is featured in this Q+A.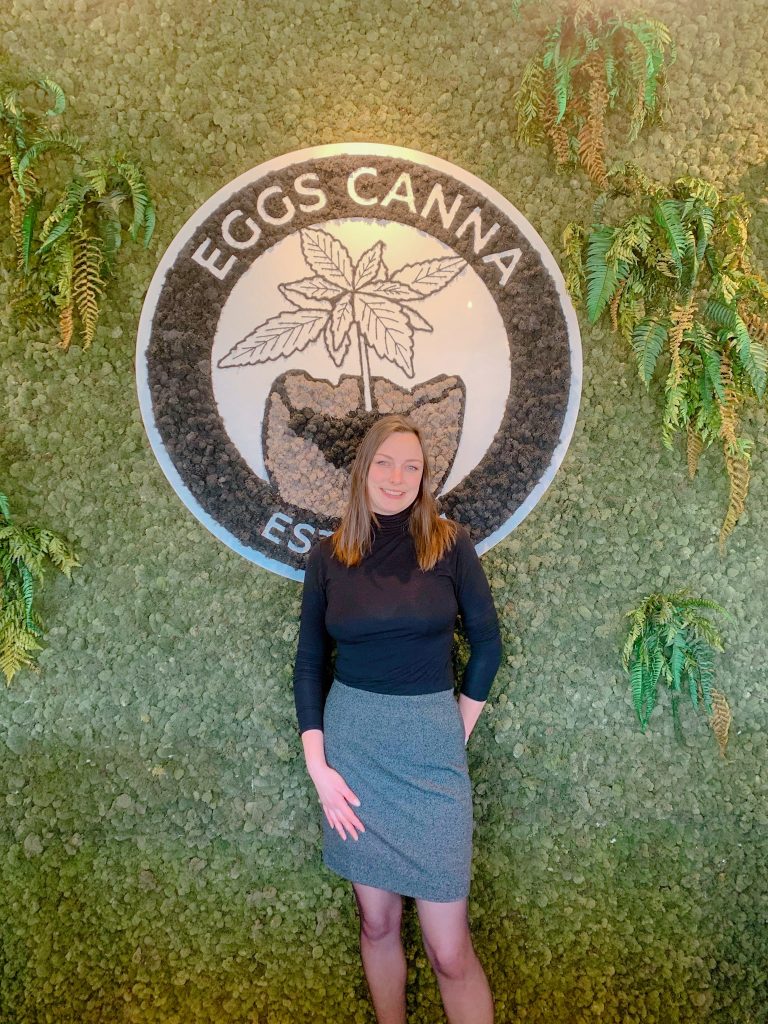 Why/how did you get into the cannabis industry?  
Well, I have a love and passion for all herbs, Particularly Cannabis. It has been a part of my life for as long as I can remember. Pretty sure they were just house plants growing up. It's a know fact, that if you have passion for what you are doing in life, you will succeed in what ever it is you choose.
What advice do you have for women looking to make an impact in the cannabis space?
In general I think advice I have for women would be: stay true to yourself, be kind always. Its better to beg for forgiveness than ask for permission. With Cannabis I would say, build a community, build a network of people you can trust. To share opinions, thoughts and ideas with, a network you trust.  Learn how to pivot, be fluid, always be able to move directions or change plans 😉
Did you ever dream of being in cannabis industry?  
I think everyone dreams to be in the cannabis industry, for me I didn't think it could be a reality. You never thought you could make a legit career out of it. So, yes I dreamt of it, but now living that I can say "wow it has been a dream come true in a way".
What are some of the challenges that still exist that made you WANT to be in this industry? 
Keeping up with such a fast growing industry, knowing about all the products coming on to the market, staying up to date on all the evolving rules, regulations and concepts. But having that challenge, has kept my passion alive.  And again, you will enjoy having a career you are passionate about.
How does a women's presence in cannabis change the way that the industry is viewed and perceived? 
I feel like that there is such a connection with women and with Mother Nature that if you didn't have the two coincide together, The outcome might not be as desired as we want. Having women in cannabis empowers other women and empowers the shift of stigma towards it. Women are elegant creatures we're beautiful, we are loving and caring. And it's the same with the cannabis plant. It is loving, it is giving, it is beautiful and it has a way to change the world just as women do.
What do you think helped you the most to make a career as a woman? What's the biggest factor that has helped you be successful? 
The biggest thing that has helped me be successful in my career as a woman is having that mentor. To have a mentor that is supportive and believes in you and is willing to help you grow. I have a personal drive to always be better, to do better and to grow physically, mentally, and spiritually in any experience that I have. So having that personal drive to grow to be better person is something that I think has helped me be successful. But of course, that personal drive comes from a deeper source, a drive that my daughter gives me to be and do better. I named her Destiny, because I was destined to become a better person in life, I was made to become her mother.
How many people did you have to convince that Cannabis isn't a dangerous substance? 
I think most of my life, cannabis was viewed as something natural that was safe, and that was comfortable. We had it growing up in my house. So having to convince people that it's a dangerous substance, I think I've only really experienced in the retail market and recreational cannabis, and I find it wasn't hard to convince people that it wasn't a dangerous drug, giving them the information and allowing them to test out the waters in a comfortable setting and with somebody that was confident in giving them the ability to learn what it was they were taking. So starting off low and going slow, of course. It helped convince people that cannabis is natural. It's just like any other herbs, like echinacea. It's coming from Mother Earth. Dangerous drugs in the world come out when humans have manipulated that plant so much that is now just a chemistry molecule and that's, I think when it comes more to be a dangerous drug. It starts to have other or adverse effects on people.
How many times have you been in the only woman in the room, when it comes to cannabis? 
I don't think I've ever been the only woman in a room when it comes to cannabis, because I've always surrounded myself with inspirational women. I've always built that community or network with other women in order to shift that stigma around women being in some kind of, you know, masculine industry.
What was your families reaction to being in the cannabis industry?  
I think my dad was in a bit of shock, that my teenage words were coming back to bite him. You're taught to do what you love and boy did I love cannabis. My dad always told me I couldn't make a career out of it, he should know he was in jail for it many times in his life.
Both my parents have always been supportive and proud for all my accomplishments.
BONUS QUESTIONS: What is your favourite Munchie?  
Cereal, I love a good bowl of cereal. Fruit Loops to be exact, but then there is charcuterie boards all the good munchies on one plate, But then there is pizza. OK OK I just love all food after smoking a big ol joint.
What is your favourite method of consumption?
Joints all the way, I love the ritual of my husband rolling the joints for me to smoke. Old school method, cannabis in its natural state, the whole plant.
The International Women's Day 2022 Campaign theme is #BreakTheBias, which is why Eggs Canna is #CrackingTheBias:  
Imagine a gender equal world.  
A world free of bias, stereotypes, and discrimination.  
A world that is diverse, equitable, and inclusive.  
A world where difference is valued and celebrated.  
Together we can forge women's equality.  
Collectively we can all #CrackTheBias.  
Individually, we're all responsible for our own thoughts and actions – all day, every day.  
We can crack the bias in our communities.  
We will crack the bias in our workplaces.  
Together, we can all crack and creak the bias - on International Women's Day  and beyond.